Posts tagged
career
Want to snag a pay premium? Check out the IT skills that will be in high demand in 2013.
The number of companies planning to hire tech professionals continues to grow, with 33% of the 334 IT executives who responded to Computerworld's 2013 Forecast survey saying they plan to increase head count in the next 12 months.
This is the third year in a row that the percentage of respondents with hiring plans has risen — up from 29% last year, 23% in 2010 and 20% in 2009.
"When you look at just about any research or market trend, IT is one of the top two or three always mentioned as a bright spot in the job market, and it's pretty simple why," says John Reed, senior executive director at staffing firm Robert Half Technology. "When you look at technology, it drives so much of what business does, from productivity to communication to improving speed to making better business decisions. So companies are investing in that, and you have to have the people experienced in doing that."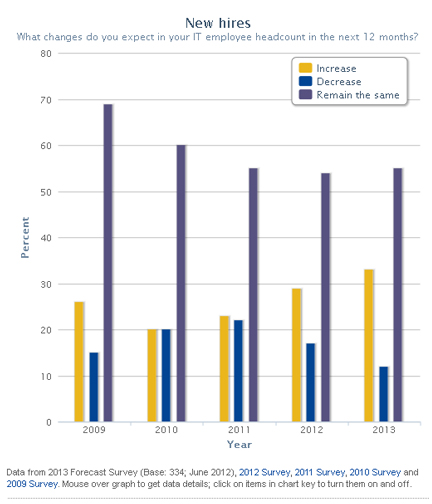 Of course, IT leaders aren't hiring technologists indiscriminately. They're seeking specific skills to deliver what the business needs to compete today. Here's a look at the top 10 skills for 2013.
1. Programming and Application Development
• 60% plan to hire for this skill in the next 12 months.
Companies put off projects during the recession, but now they're playing catch-up and looking for staff to keep up, according to Reed.
"Technology and software are great ways for companies to improve productivity, lower costs and create better Web presence," he says, adding that companies will need staffers to create new and better technology to do those things.
That's the case at San Francisco-based Wells Fargo, says Jason Griffin, vice president and technology talent acquisition manager. "Our top needs are in programming and application development," he says. "We're just looking for more to meet the business need. The business [units] are investing in new products, they're looking for ways to provide products and services to meet customer needs."
Griffin, like others, says he's specifically looking for people with experience in Java, J2EE and .Net.

2. Project Management
• 40% plan to hire for this skill in the next 12 months.
The ongoing need for project management skills tracks with the continuing need for programmers: Both are responses to the demand for new applications that businesses need to compete.
"More projects mean more project managers," Reed says, noting that companies want experience as well as credentials, such as the Project Management Professional designation.
Jamie Hamilton, vice president of software engineering at Detroit-based Quicken Loans, says project manager jobs will be among the 100 new positions his company plans to add to its 800-strong IT team.
Hamilton says demand for project managers is strong in part because projects are growing more complex as the connectivity between applications increases.
Successful candidates need to have proven track records. "Three things are key for us, and they're more around behavior: Are you a leader, and do you operate as a leader? Do you have a history of executing? What's your behavior around detail?" Hamilton says.

3. Help Desk/Technical Support
• 35% plan to hire for this skill in the next 12 months.
Jack Wolf, vice president and CIO at Montefiore Medical Center in New York, says he has a list of initiatives to pursue, including deployments of new radiology systems and electronic health record applications. To ensure success, he's looking not only for people to build and implement the systems, but also for tech support workers to help employees use them.
"New systems mean you need more help desk people to handle the increase in calls we expect," Wolf says.
He's far from the only one searching for such skills. Tech staffing firm Modis reports that help desk technician is the job title that companies most often seek help filling.
4. Security

• 27% plan hire for this skill in the next 12 months.
Security has long been a concern of IT leaders, and demand for specialized security professionals is growing as the task of safeguarding systems and data becomes increasingly complex.
Consider the case of Netherlands-based Royal Philips Electronics, which has U.S. headquarters in Andover, Mass.
Cynthia Burkhardt, vice president of talent acquisition, says the company is building its IT security department internationally. It hired a chief information security officer, who is based in the Netherlands, and it's adding four more IT security executives — two of whom will be based in the U.S. She says the company expects to continue building its IT security team from the top down.
Burkhardt says Royal Philips wants experienced IT security professionals who have business acumen in addition to expertise in deploying firewalls, threat detection tools, encryption technology and other security systems.
5. Business Intelligence/Analytics
• 26% plan to hire for this skill in the next 12 months.
Big data is one of the top priorities for many companies, but getting the right people to analyze all that information is challenging, says Jerry Luftman, managing director at the Global Institute for IT Management and a leader in the Society for Information Management.
The best candidates have technical know-how, business knowledge and strong statistical and mathematical backgrounds — an uncommon mix of skills, Luftman says. In fact, some companies are hiring statisticians and teaching them about technology and business.
Joe Fuller, CIO at Dominion Enterprises, a marketing services company in Norfolk, Va., says he anticipates hiring data scientists or data analysts in the future but acknowledges that it will be a challenge.
"We're missing that person who thinks outside the box, who understands the link between this behavior now and this behavior later," Fuller says. "I don't know who to look for there, so I think it's [going to be] a team. I can't imagine finding that in one person."

6. Cloud/SaaS
• 25% plan to hire for this skill in the next 12 months.
Fuller's staffing plan at Dominion Enterprises is also a case study for skill No. 6, which didn't even crack the top 10 in the 2011 survey: He says the company will need cloud computing experts as it moves beyond its two existing data centers.
"We're going to need a cloud architect who knows how to leverage and how to architect without breaking the bank," he says. "We're going to need to know where we should host it, how to configure it, how to negotiate the [service-level agreements], and to make sure we're backed up properly."

7. Virtualization
• 24% plan to hire for this skill in the next 12 months.
Jon A. Biskner, assistant vice president of IT at Nicolet National Bank in Green Bay, Wis., says he wants to create a virtualization administrator position.
"It's hard to find someone who is fully skilled in virtualization," Biskner says. "They have to understand the storage and clusters behind the virtual server because before the connection was more physical; now it's more logical." IT professionals talk about virtualization, he adds, but often they don't have a breadth of experience with it.
8. Networking
• 19% plan to hire for this skill in the next 12 months.
Networking expertise remains a perennial top 10 most-wanted skill, although demand has dropped from 38% in the 2010 survey to 19% in the 2013 survey. Despite the decline, however, IT leaders say they still need networking professionals who have solid experience.
In Robert Half Technology's third-quarter IT Hiring Index and Skills Report, network administration was the No. 2 most sought-after skill set, cited by 48% of the 1,400 CIOs surveyed. It was second only to data/database management, which was cited by 55% of the respondents.

9. Mobile Applications and Device Management

• 19% plan to hire for this skill in the next 12 months.
As consumer and business use of smartphones and tablets expands, employers are looking for workers who can handle the demands related to the proliferation of such devices, says Motti Fine, managing director of TreeTop Technologies, an IT staffing and consulting firm. Case in point: Kathy Junod, senior director of IT at Auxilium Pharmaceuticals in Malvern, Pa., plans to create a new job with the title mobile manager to add to her existing staff of 22. She says she needs an experienced manager to oversee building the niche mobile apps the business needs.

10. Data Center
• 16% plan to hire for this skill in the next 12 months.
Core technical skills remain in high demand, so it's not surprising that data center skills still make the top 10. In fact, CompTIA reported in its February State of the IT Skills Gap study that server/data center management and storage and data backup remain high on the list of IT skills that employers are seeking. Some 61% of the IT and business executives surveyed by CompTIA rated server/data center management as a very important skill, while 57% rated storage/data backup as such.
However, Robert Half Technology's third-quarter IT Hiring Index and Skills Report found that CIOs listed data/database management as No. 2 among the "functional areas" in which it's most challenging to hire IT professionals.
---
Best Microsoft MCTS Certification, Microsoft MCITP Training at certkingdom.com
Because you're doing your research on MCTS courses, the chances are you're in 1 of 2 situations: You might be wondering about completely changing your working life to the field of computers, and research demonstrates there's a growing demand for people with the right qualifications. In contrast you could already be in IT – and you want to enhance your CV with the MCTS accreditation.
When looking into training providers, ensure that you steer clear of those that short-change you by failing to provide the latest Microsoft version. This will only hamper the student due to the fact that they'll have learned an old version of MCTS which doesn't fall in with the present exams, so they'll probably fail. A training provider's focus must be centred on the most for their students, and everyone involved should have a passion for getting things right. Studying isn't simply about qualifications – the process should be all about helping you to decide on the best course of action for you.


Best Microsoft MCTS Certification, Microsoft MCITP Training at certkingdom.com
It's essential to have an accredited exam preparation programme included in your course. Because many examining boards for IT are from the USA, it's essential to understand how exam questions will be phrased and formatted. It's no use just answering any old technical questions – they must be in an exam format that exactly replicates the real thing. A way to build self-confidence is if you test your depth of understanding by doing tests and mock ups of exams prior to taking the actual exam.
There are colossal changes washing over technology over the next generation – and this means greater innovations all the time. We've barely started to see just how technology will affect our lives in the future. Computers and the web will profoundly revolutionise how we see and interrelate with the entire world over the next few years.
Let's not ignore salaries moreover – the typical remuneration in the UK for a typical person working in IT is considerably better than remuneration packages in other sectors. Odds are you'll make a whole lot more than you could reasonably hope to get in other industries. With the IT marketplace developing year on year, it's predictable that the requirement for well trained and qualified IT technicians will continue actively for decades to come.
Make sure you don't get caught-up, like so many people do, on the training course itself. Your training isn't about getting a plaque on your wall; this is about employment. Focus on the end-goal. It's a sad fact, but a great many students begin programs that seem amazing from the syllabus guide, but which provides the end-result of a job that is of no interest. Try talking to typical university leavers for examples.
It's a good idea to understand what expectations industry may have of you. Which precise qualifications they will want you to have and how you'll go about getting some commercial experience. Spend some time assessing how far you think you'll want to go as often it can control your selection of accreditations. Talk to a skilled advisor that has a commercial understanding of the realities faced in the industry, and could provide an in-depth explanation of what tasks are going to make up a typical day for you. Getting to the bottom of all this before commencement of any study program will save you both time and money.
Many trainers will provide an useful Job Placement Assistance program, to assist your search for your first position. Don't get caught up in this feature – it's easy for eager sales people to make too much of it. In reality, the massive skills shortage in the United Kingdom is why employers will be interested in you.
Nevertheless, don't leave it until you have finished your training before bringing your CV up to date. As soon as your training commences, mark down what you're doing and tell people about it! Quite frequently, you will get your first job whilst you're still studying (occasionally right at the beginning). If your CV doesn't say what you're learning (and it isn't in the hands of someone with jobs to offer) then you won't even be considered! Actually, an independent and specialised local recruitment consultancy – who make their money when they've found you a job – is going to give you a better service than a recruitment division from a training organisation. They should, of course, also know local industry and the area better.
A slight frustration of many training companies is how hard people are prepared to work to get qualified, but how little effort that student will then put into getting the job they have trained for. Don't falter at the last fence..

Best Microsoft MCTS Certification, Microsoft MCITP Training at certkingdom.com