Microsoft launches own Windows 8 tablets, one a full PC
Surface's two covers, which double as keyboards, offer unique feature (see slide show, video below)
Microsoft launched two 10.6-in. tablet computers dubbed Surface on Monday, built on Windows 8, with two versions of unusual attachable Touch Covers that double as keyboards.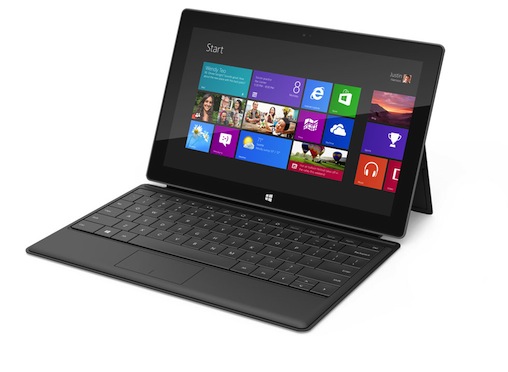 The Windows RT version of Surface will go on sale first in 32GB or 64GB versions. It will be priced at the same level as competitive Windows RT tablets from other makers, Microsoft said.
The Windows 8 Pro version will ship three months later in 64GB or 128GB versions, and is expected to sell at the price of ultra portable PCs, Microsoft said.
The Microsoft Surface tablet
The Microsoft Surface tablet, unveiled late on Monday, comes with a built-in "kickstand."
In pictures: Surface — 'A PC, a tablet and new'
A full spec sheet for both Surface tablets is posted on Microsoft's site.
Microsoft CEO Steve Ballmer called the tablets actual PCs because they are based on Windows 8. "The Surface is a PC…a tablet..and a new experience," Ballmer said.
Windows RT will run ARM chips, while Windows 8 Pro will function on X86 architecture. The ARM architecture is widely used in smartphones and even Apple's iPad, while Intel has been the biggest maker of X86 chips for laptops.
Ballmer spent time saying he appreciated efforts of various Windows 8 tablet makers with past PCs and coming tablets, but added: "With Windows 8, we didn't want to leave any seam uncovered…Much like the need for mouse [introduced with Windows 1.0], we wanted to give Windows 8 its own companion."
Analysts were concerned that Microsoft might rankle its tablet makers. But the news surprised some analysts, including Steven Osinski, a member of the board of the business administration college at San Diego State University.
"It seems to me that Microsoft, the sleeping giant, has finally woke up to 2012," he said. "If Surfaces works as well as Microsoft claims, here's a product that will give Apple's iPad a major run for its money."
Features in the tablets include a built-in stand, a vent around the perimeter to let off heat and partnerships with Netflix, and inclusion in the Xbox network, he noted. "This will be a threat to Apple's dominance in the tablet market," Osinski added.
The fact that Apple has a two year start on Microsoft with its 9.7-in. iPad that starts at $499 will matter. The iPad currently has more than 60% of the market, while various Android makers split the rest.
The two covers with the machine are called a Touch Cover and a Type Cover, with the latter offering a touchball experience and the ability to touch type with resistance.
An accelerometer in the covers allows a user to never need to remove the covers to orient them for typing. Microsoft demonstrated how they can be attached and used, and offered reporters brief up-close demos.

Best Microsoft MCTS Certification,
Microsoft MCITP Training at certkingdom.com
This entry was posted by admin on 2012/10/17 at 9:22 am, and is filed under Uncategorized. Follow any responses to this post through RSS 2.0. Both comments and pings are currently closed.
Comments are closed.